July 14, 2011
The 4th annual Philadelphia-based Drupal Camp, Drupaldelphia, is scheduled for Friday, July 29th. The event will be located at Alter Hall on the campus of Temple University. And, as always, the Zivtech crew will be there. We're helping to organize the event and our developers have submitted numerous sessions. Registration remains open and even a few sponsor opportunities still exist. So join us in two weeks and learn (or learn more) about the powerful content management system, Drupal!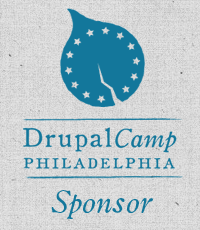 Zivtech will also be conducting a local training workshop July 27-28. Drupaldelphia attendees will receive a 50% discount when they use the promotional code: drupaldelphia Drupal 7 - Site Building (2-day), Presented by Zivtech Drupal's flexibility and performance capability makes it a 'must have' platform for organizations. But Drupal's power also comes with a price--a steep learning curve. During Zivtech's Drupal Site Building Workshop (2 day), we guide you along this learning curve. Our trainers teach strategies for building websites without custom code - using Drupal core and contributed modules. We highlight the best modules for common requirements, including media and file handling, gallery creation, workflow, and more. Attendees are engaged with hands-on examples all along the way. Specifically, our trainers cover the following topics in-depth:
Drupal Introduction
Content and Content Types Overview
Users, permissions, and security
Common modules and configuration
Paths, blocks, menu and SEO
Views
Themes and Subthemes
Text Formats and WYSIWYG
Updates and Local Testing
Our Drupal Website Building (2 day) workshop is appropriate for intermediate Drupal developers. Attendees receive a printed manual with step-by-step site building instructions, in addition to lunch and refreshments both days. Attendees are required to bring their own computer. Workshop runs from 9am-4pm on both Wednesday, July 27th and Thursday, July 28th. Drupaldelphia is a day long exhibition and celebration of Drupal and related tools for all levels of Drupal users; from those who are evaluating Drupal for the first time to core Drupal contributors. The day is a mix of structured sessions and organic 'Birds of a Feather' (informal discussion groups).