January 20, 2011
We are very pleased to announce our pre-conference Drupal 7 Module Development training session at DrupalCon Chicago, taking place on Monday, March 7, 2011. The session will be held in the University of Chicago's Gleacher Center, located moments away from the Sheraton Chicago Hotel, AKA Drupal Tower, the venue for this Drupalcon.
The Session
This session is definitely a must for anyone looking to take their PHP skills into the realm of Drupal 7 module development. The training will be headed by Zivtech's Jody Hamilton and Howard Tyson; on hand throughout the session to answer any questions that arise. Attendees will be putting Drupal 7's revamped API to work during the session to build a complete Drupal module, and will leave the training with a working knowledge of Drupal's menu, form, and hook systems, as well as the database layer. At the end of the session, attendees will also receive a copy of the finished module which includes additional well-documented examples of advanced topics such as update scripts, programmatic content type creation and Views integration for our custom database tables.
Registration
To register, you'll first need to register for Drupalcon Chicago by following the instructions outlined here. After the initial registration, you'll be asked to select any pre-conference training sessions you might like to attend. Simply select the Zivtech Drupal 7 Module Development session from the list provided and continue the registration process. If you have already registered for Drupalcon Chicago but would now like to include the Zivtech Drupal 7 Mod Dev session with your registration, either email the Drupalcon support staff with your request, or visit the Drupalcon registration page and login in with your username and password. Please feel free to contact us if you have any questions. Further information on the training session can be found on the Drupalcon Chicago Pre-Conference Training Page.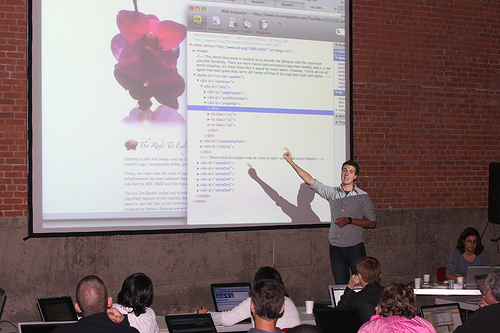 Howard at a training in New York. See more images from our trainings here.