June 23, 2017
There's no exact science when it comes to search engine optimization, which is why it can be difficult to determine how to develop a strategy that works. This is especially true for small businesses that are still trying to build awareness and retention within their target markets. 
 
If you work at a small company and are searching for new strategies to improve your SEO on a limited budget, there are certain things you can do that don't involve spending lots of money on paid search campaigns. Here are a few tips and tricks to start improving your SEO over time.
Inform Your Strategy with Data
Strategy should always be driven by informed data and research. There are many different kinds of tools you can use to analyze your SEO, but the ones that Google offers are a good place to start. 
Google Analytics
If you don't already have a Google Analytics account setup for your website, you should set one up now. Google Analytics provides invaluable insight into the traffic that's already coming to your site. You'll see data for metrics like the number of visitors, most popular pages, bounce rates, how visitors get to your site, and more. You can also set up goals and custom reports to see how your efforts are helping traffic and SEO over time, and it's relatively simple to set up.
 
Once your account is set up and you have a few weeks of data to work with, check your traffic sources and top pages to determine some benchmarks. Since you're working on improving your SEO, you'll want to see an increase in organic search over time.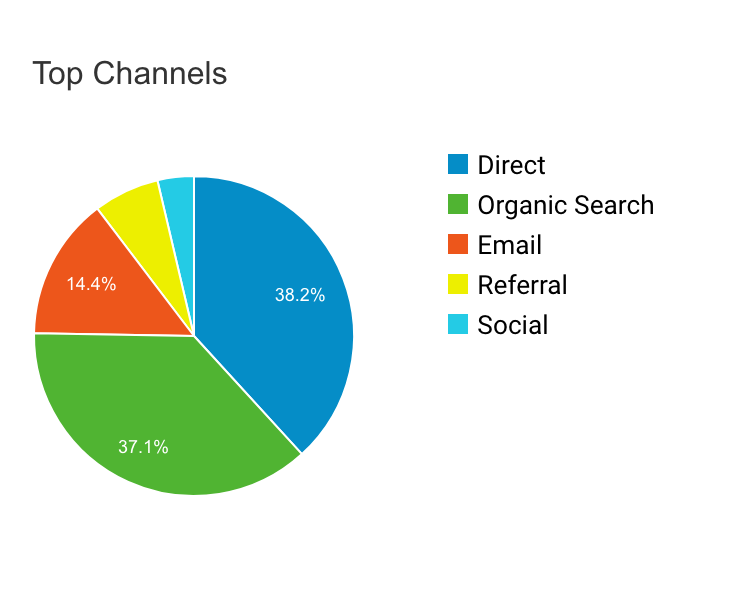 Compare your top pages with where you want your site visitors to end up on your site. If the current top pages aren't aligned with your goals, you may want to focus on specifically improving the SEO and user journeys for those pages.
Google Search Console
Google Search Console (formerly known as Google Webmaster Tools) is another free tool that you can use to get some insight into how your website is performing. While Google Analytics mainly provides data on who visits your site, Search Console will give you deeper insight into more internal information, like who is linking to you and which keywords you appear for in search results. 
 
Check your queries to see which keywords your site appears for and how many impressions each keyword gets. For any keywords that are well aligned with your goals, you can further optimize your site to try and gain more authority over these terms.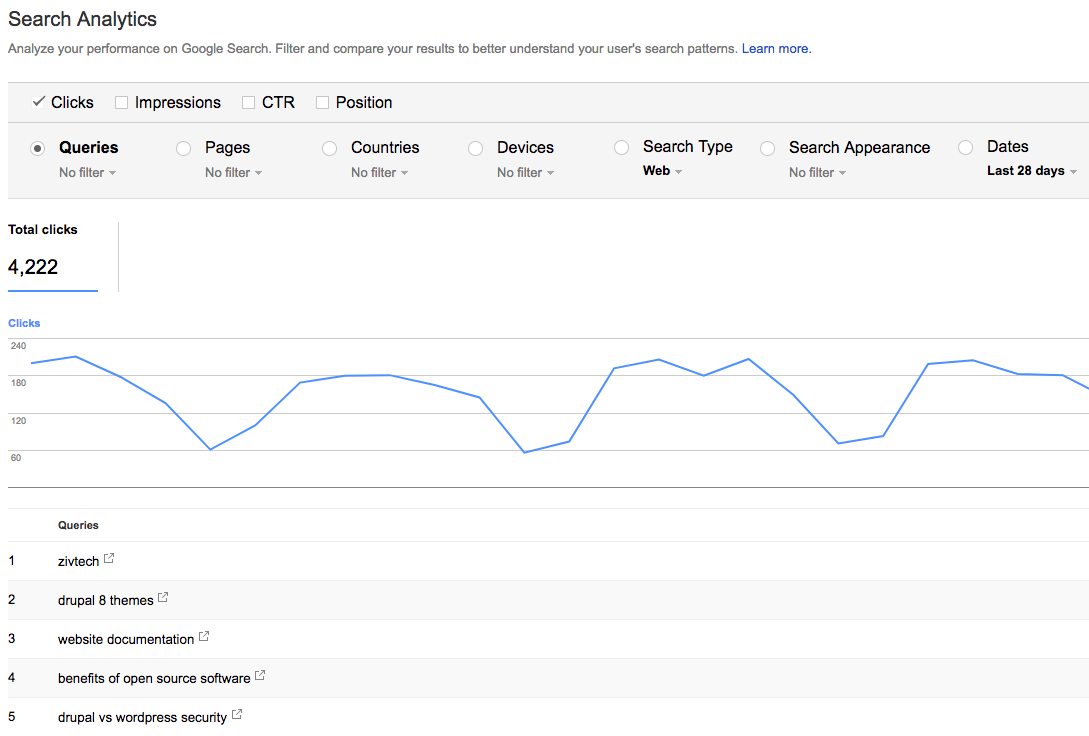 Build Your Strategy
Now that you have some background on your site visitors and top keywords, it's time to start implementing a strategy that will help you continue to build and refine your traffic. 
Optimize Your Site
Make sure your website is set up in a way that's conducive to SEO. You should have an XML sitemap; this helps search engines crawl and index your website. Create descriptive titles with keywords for all of your pages and include meta description tags. 
 

It's also a good idea to engage in content marketing. Regularly producing fresh, relevant content gives you the opportunity to continue adding pages about the keywords that are relevant to your business. It also provides a good opportunity for capitalizing on long-tail queries, which I'll explain further in the next section.
 
You may also want to ask the team that manages your website if there are SEO strategies that are specific to your content management system. For example, there are a number of things that you can do with Drupal that will continue to help your efforts. 
Capitalize on Long-Tail Queries
Simply optimizing your site for keywords is no longer good enough when you're competing for top spots in search results. Keywords tend to be generic and lack intent. Search engine users are more likely to look for results with longer, more detailed queries. 
 
Let's say I own a boutique apparel company that sells a variety of items. As a small company, it will be difficult for me to compete with larger retail chains; it's highly unlikely that I would ever outrank them in a search for a term like "dress." 
 
Instead, it's beneficial to capitalize on longer, more specific queries, like "affordable dress for summer wedding." There may be fewer shoppers who search for something this specific, but there will also be less competition on more precise terms. Plus, I would most likely be reaching shoppers who are further along in the buying cycle who know exactly what they want, instead of those who are simply browsing. 
 
Optimizing for long-tail queries can also help you tap into local markets. If you're trying to attract local consumers to your business, it's smart to include the city in your keyword optimization. This will help to ensure you're reaching people in the right areas.
Obtain Backlinks 
Websites with a significant number of other sites linking to them tend to favor better in search results. When sites that are relevant to yours or relevant to what your company does link to your site, it tells search engines that your website is more legitimate and should be displayed earlier in search results. 
 
Sites with higher domain authority will be the most beneficial for backlinks. You can use this tool to check other sites' domain authority and strategize how to get them to link back to you. For example, sites like Wikipedia have high domain authority due to the number of backlinks and credibility.
 

Develop a Strong Internal Linking Structure
A strong internal linking structure will also help boost your site's SEO. Go through the content on your site and determine where you can add links. These links can also help to keep visitors on your site longer instead of loading a page and bouncing shortly thereafter.
Measure Your Efforts and Continue to Refine 
These tips should provide you with a good place to start, but you'll want to continue to build and refine your strategy over time. SEO doesn't happen overnight, so it will take continuous effort to see positive results. View your efforts as a marathon instead of a sprint. Continue to produce and update content to help drive traffic, and always develop new benchmarks to work toward.