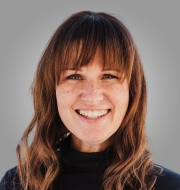 Lacey has 15 years of project and program management experience in the software development, travel, education, advertising, and manufacturing industries. Throughout her career, she has overseen the completion and administration of numerous projects through skillful utilization of project plans, budget tracking, risk mitigation, and direct resource management. She has a proven track record of success leading executive projects using agile, waterfall and iterative methods.
She Specializes in
Time and resource management
Client communication
Collaborating across organizations
She is also certified as a Project Management Professional (PMP), Certified Scrum Master (CSM), and Certified Product Owner (CSPO) and has a Master's in Business Administration with a focus on process development.
Other Tidbits:
When not working, Lacey makes it a point to spend time outside. She's an avid hiker, and took up fly fishing a few years ago to show her two boys she's a "cool mom."