November 9, 2017
So you just became a Digital Project Manager. You're starting to venture into your own projects while testing and trying different methods of working with your team and clients. Part of the art of PM-ing is trial and error, but try to start out with a structure that works well for you and your team right off the bat. Here are a few resources to help you get started. 
Come up with your own PM Commend-ments 
Come up with a positive list of lighthearted rules that you want to abide by as a PM, or a mantra that reminds you of what you set out to do with each and every client. It's important to set the bar for yourself in your work and to hold yourself to a certain standard. Here are a few of my commend-ments: 
Thou shalt clean thy Dropbox folders and desktop on a regular basis. 
Thou shalt always read emails out loud before sending. 
Thou shalt color code spreadsheets with a color palette that doesn't blind anyone.
Thou shalt have someone else proofread emails if thou is frustrated while writing said emails. 
Thou shalt never forget to cc everyone who needs to be cc'd on correspondence. 
Thou shalt be a good communicator for all clients. 
Thou shalt always send timely project status reports when asked. 
Thou shalt be transparent about information, even when it isn't fun.
Whether you want to write these down, put them as your desktop background, put them on the wall of your office, or get them tattooed, it's important to have a list of reminders to help you uphold your own best practices. 
There's a template for everything
Structured and streamlined information is the first step to being an organization wizard. Come up with your own templates that you'll actually use to store client information, format meeting notes, and easily whip up project updates. 
All of these can live in PDF format so you can edit and save, or you can use Google Drive so that everyone on your team can use and edit them as you go along. 
Here's an example of the information sheet we fill out for new clients, including which tools they use and some notes on preferred communication.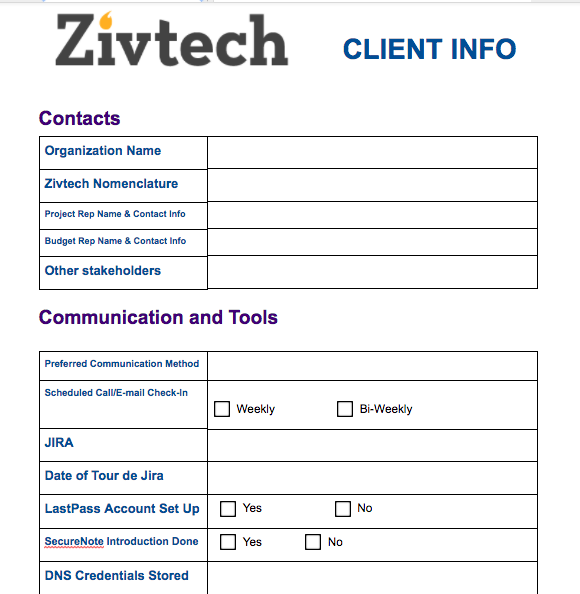 We encourage our clients to use the tools that we use and love, but can obviously work around them to accommodate their preferences. LastPass is our preferred resource for credential sharing, and we like to encourage our clients to use their project's Jira board to keep an eye on tickets and overall project progress. Creating your own templates and streamlining them for company use can also help. 
There's a spreadsheet for everything
If there's one thing project managers love, it's spreadsheets. I stayed as far away from Excel and Google Sheets as I possibly could for a very long time. Now, it's an integral part of structuring workflows and information sharing. 
As a PM team, we work to improve these on a regular basis. We use Google Sheets to keep track of our invoicing progress at the beginning of every month, to allocate our team on a weekly basis, and to create prospective budgets. 
If you don't go into the position loving a good color coded, conditionally formatted sheet, it's the perfect time to learn. Embrace how well this will keep you organized. Take a look at a plethora of basic formatting instructions, make your data much more visually appealing, and get crazy with custom functions.
Get savvy with your project management software
Task management software is extremely useful in helping technical teams work more efficiently. However, it is not intuitive for every user. Seeking out documentation sources is a great way to learn in order to go above and beyond the day-to-day basics. 
There are some tools and tricks you may not need to use in your own projects, but exploration is part of the fun. Look at the documentation written by the software company itself, and then seek more resources on how project managers utilize them successfully. These can be blog posts, online tutorials, or recorded talks from conferences. Don't be afraid to geek out a little bit here.
Speaking of documentation…
Let's face it: not all companies have documentation experts available to write documentation on every aspect of a project. However, prioritizing some basic documentation for both you and your client is beneficial for everyone. 
The Zivtech PM team is working on making a master Drupal documentation template so that we can add specific site functions to a documentation guide that already has a solid foundation. Learning how to write basic documentation for your client and users will save immense time and resources in the long run. And if there's a shift in your team structure, onboarding new PMs and developers will be much faster if there's a master guide on functionality, users, and what makes this site unique. 
Saying that you don't have enough resources for documentation is a way of looking at the problem with a narrow perspective. Writing documentation throughout the different phases of the project and saving the visuals for the end will help save time in the long run. You might even discover new things about the site, or find bugs that need to be fixed before launch. Clients are always happy to receive more guidance on how to use their new site. They can share these resources with their users and those who will manage the project once your role is finished. Sharing documentation shows that you care about the project and its long-term success. 
Networking!
Looking for resources outside of your own team can be more helpful than you might think. Finding out how other PMs at similar companies use their resources or run their teams can help you bring new ideas to your team. Although structure is important with all aspects of project management, flexibility is also essential to make sure communication is happening and spirits are high. 
Look for project management meetup groups that are hosting events near you, join your local chapter of Girl Develop It to find out about classes and events, or join a Slack channel to network with other PMs near and far. Some events and classes have cost barriers associated, but there are plenty of free resources out there available to you. Go forth and conquer.