August 2, 2018
It's likely that a user will come across a broken link on your site at some point. When they do, they'll be greeted with the infamous "404 Not Found" page. 
A 404 error page is displayed when a user navigates to your site but is unable to navigate to a specific page within your site. This error usually occurs when a user clicks a link to a page that no longer exists, or when they type a misspelled link.
The 404 error page is commonplace in web browsing, but it doesn't have to be a dead end for your users. Instead, take the opportunity to design an error page that offers users an engaging experience, or one that prompts them to take additional actions. 
Here are some creative examples of error pages that can serve as an inspiration for your website. 
Pixar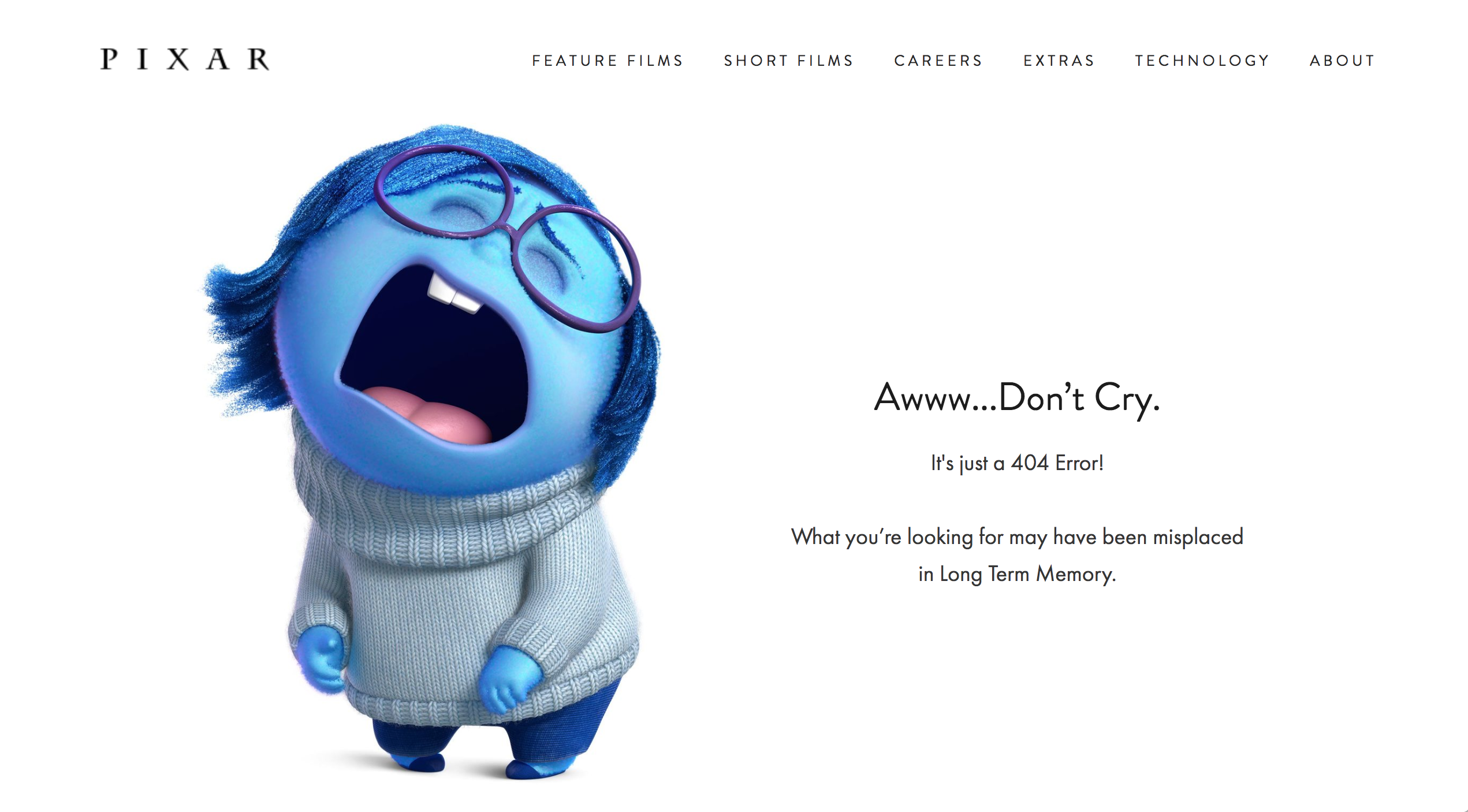 Don't cry! It's just Sadness.
When designing a 404 page for your business you should aim to reinforce your brand through creativity. Pixar hits the nail right on the head with their error page, which features the character Sadness from their hugely successful film, Inside Out. 
When a user stumbles upon the page, they're informed that what they're looking for may have been placed in "Long Term Memory." This is a direct nod to Pixar's audience who will likely understand that they're explaining the error message with concepts from the film. 
Pixar's error page is simply designed but is easily recognizable by fans.
Amazon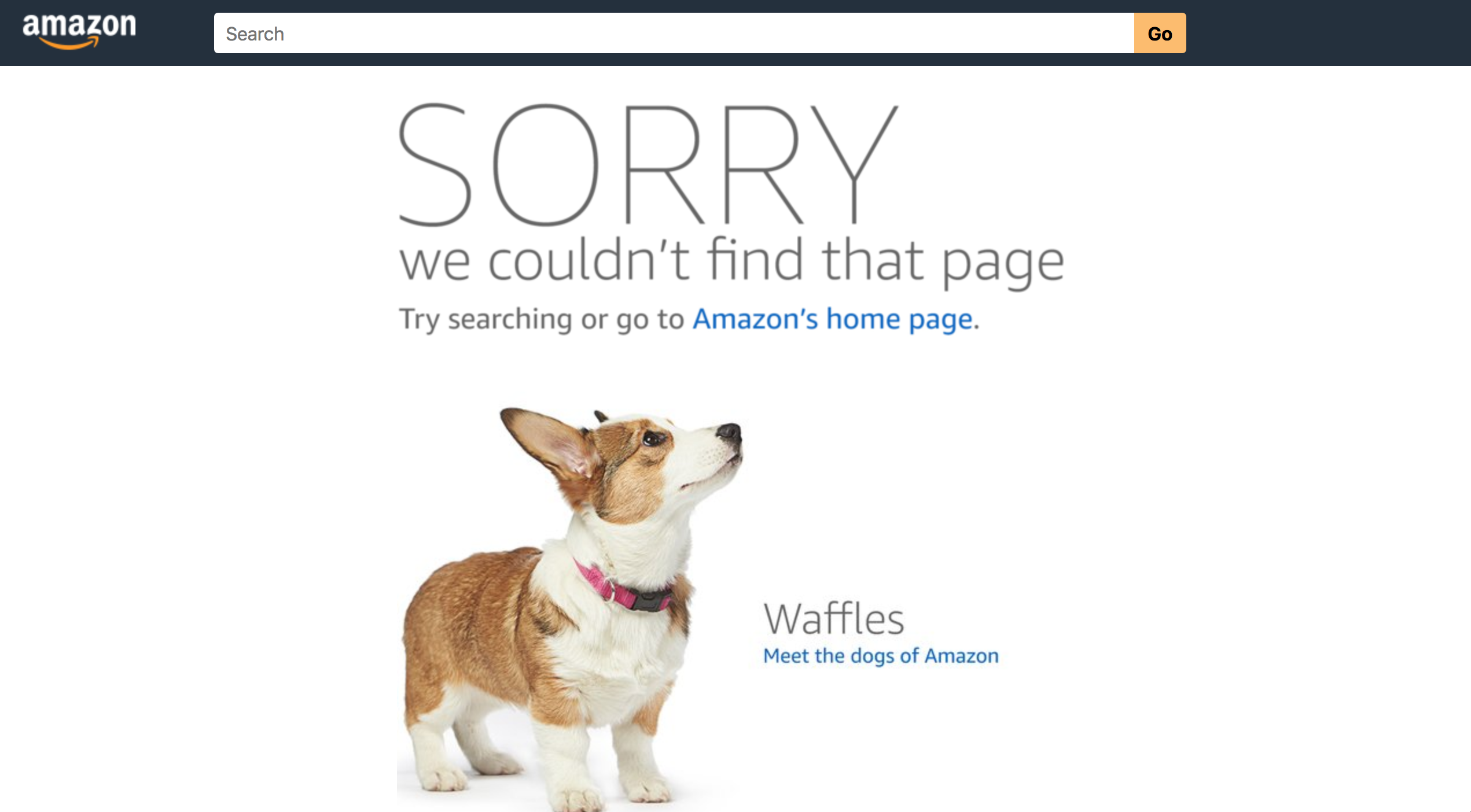 Anytime a user encounters an error on Amazon, they will be prompted to "Meet the dogs of Amazon." 
With several dogs in rotation, users can refresh the page to meet every dog from Waffles to Martini, or they can go back to Amazon's home page. Either way, a user will remain on Amazon's site – and that's the point. 
Static 404 pages can be frustrating for many users who may exit the site and continue their search elsewhere. The dogs of Amazon provide an innovative way to retain users while also keeping them engaged. 
Additionally, like Pixar, Amazon's error page is very on-brand and promotes the company's culture. According to Amazon, roughly six-thousand dogs "work" at their headquarters on any given day. 
Eastern Market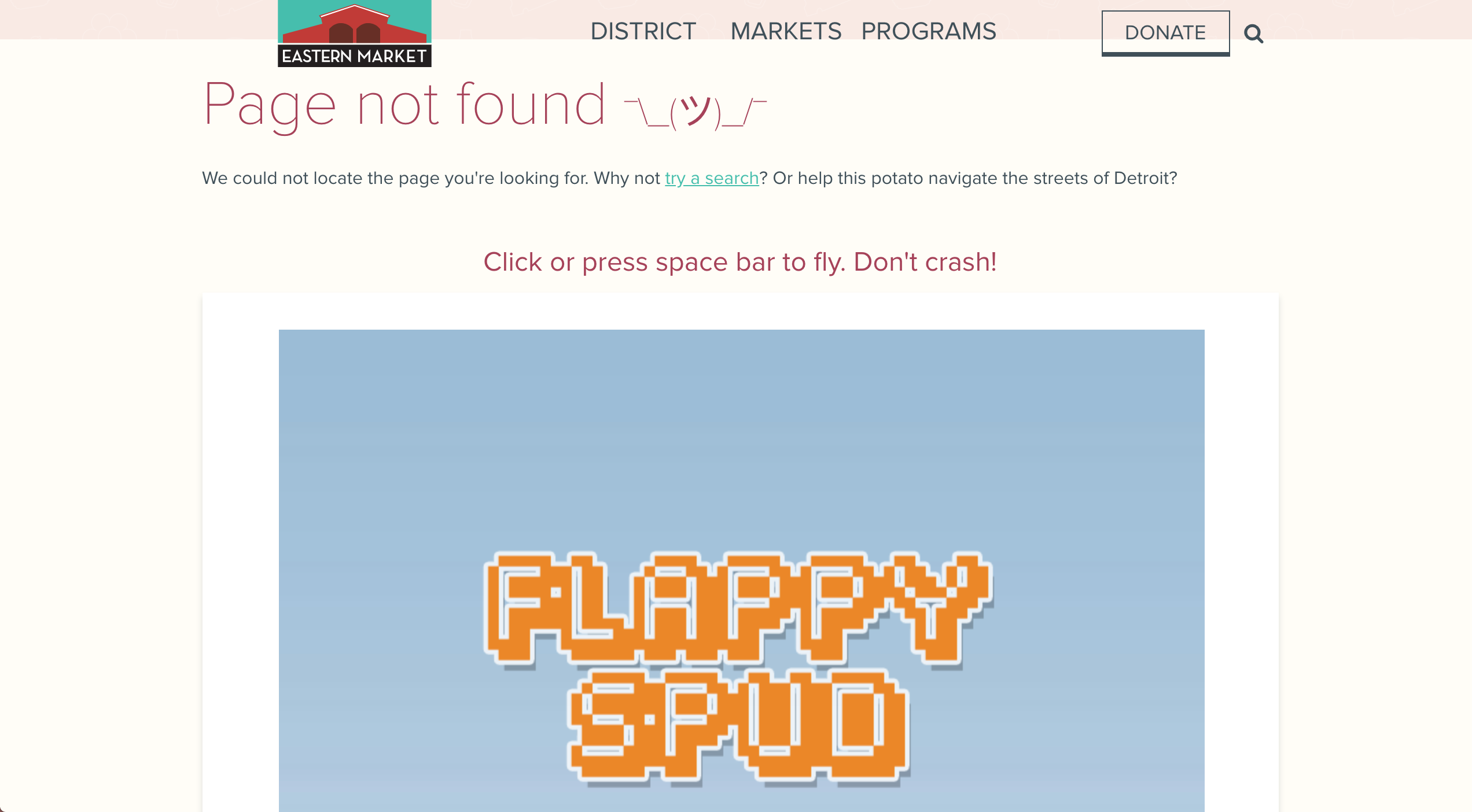 If dogs aren't your thing, consider taking a page from Eastern Market's book and gamify your 404 page. 
Eastern Market is a nonprofit organization that ensures that Detroit residents have access to fresh and affordable food. When a user happens upon their error page, they are prompted to either search for what they were looking for, or play a game of Flappy Spud. 
Flappy Spud takes inspiration from a popular, old mobile game and creatively ties together Eastern Market's love of food and Detroit, all while keeping users entertained.  
Keeping users entertained also means keeping them on your site, which is important if you want them to continue their search with you. 
Eastern Market isn't the only site that utilizes gamification. Interested in a game of Pacman? We've got just the thing. 
Approaching user error as an opportunity rather than a roadblock can help improve the way a user interacts with your site. A well-designed error page will seamlessly blend creativity and functionality and possess the ability to increase the amount of time a user spends on your site and make their experience more enjoyable.